Little to report, but the bridesmaid shenanigans continue: the dresses have come in so I'm going out to Stones Corner to try mine on and see whether it needs any adjustments in the next few days. And of all the things I never thought I'd do, I'm organising a hen's day as well. No boozing though, maybe just a day trip to Surfers to go to a day spa. We shall see!
And now, onto fandomy stuff.
I think I liked this episode entirely for the Gino/James BroTP and the introduction of Melanie, who I quite liked. As usual, the Sam/Juliet story left me cold, and I can't help but WTF at Juliet for kissing Sam at the end.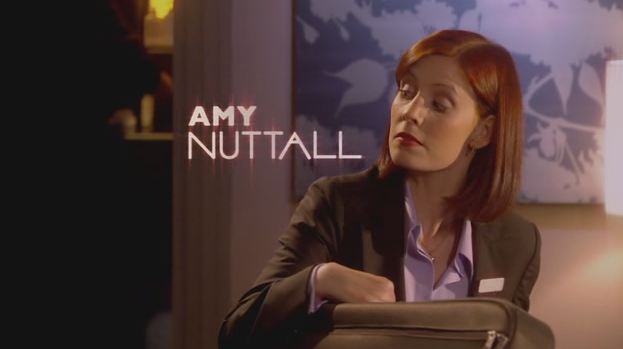 The new receptionist is in the credits already! She looks rather sleek here, but that doesn't happen until the next episode...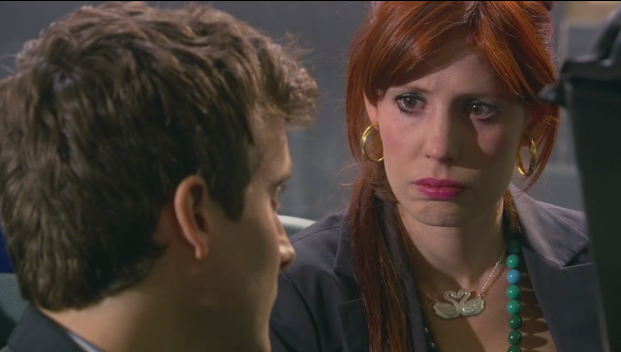 ....because in this episode, she still looks like a chav desperately trying to be professional. And is cruelly dumped by her boyfriend in front of the hotel, so to elicit sympathy from the audience.
Ben is clearly mortified by Melanie's appearance too, though in Melanie's favour he mistakes her for being the new receptionist, so she just sort of goes along with that.
James is managing a famous Italian artist's funeral. Gino wants to help, but James just gets snappy with him.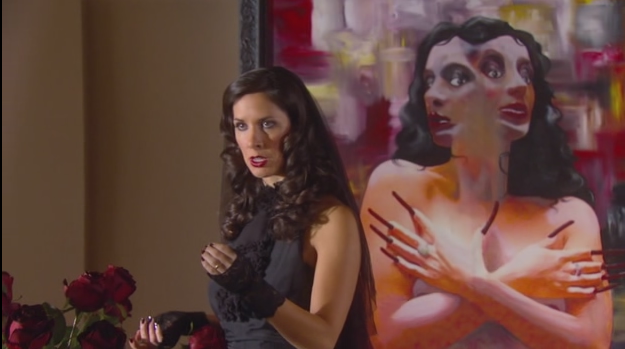 However, James gets off to a shaky start with the artist's widow, so Gino has to step in and use his Italian know-how.
And then Gino has to step in and play peacemaker again when the artist's first wife appears. James is rather jealous.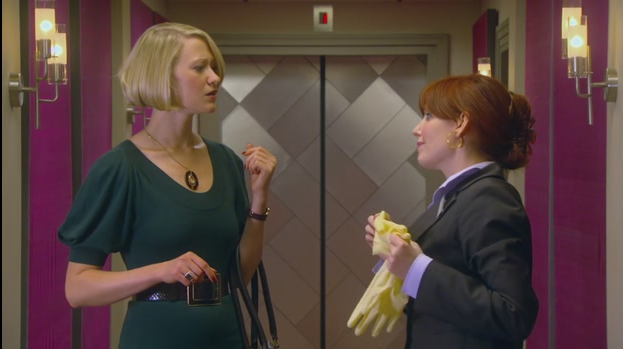 Meanwhile, Melanie tricks the actual new receptionist into bolting after frightening her off with a bit of dirty work.
Scaring off the real receptionist however doesn't take away from that she's new to the job, doesn't have references to show Juliet and has nowhere to sleep. :(
James is having a sleepless night in the room with the body of the artist.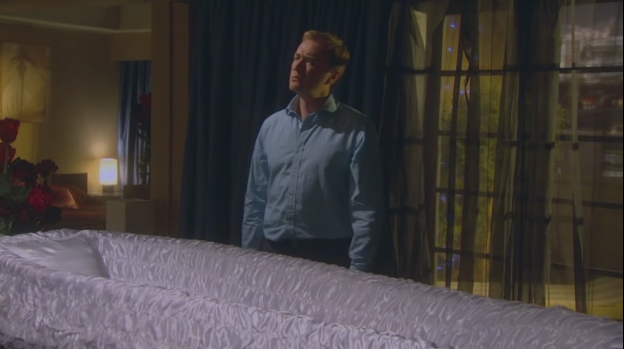 Though somehow despite said sleeplessness, the body manages to miraculously disappear from the coffin while he isn't looking.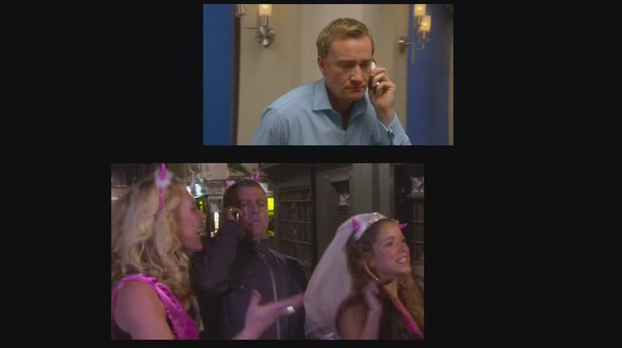 So he has to grovel and beg Gino away from his hen's night girlfriends to help him out.
The dead artist actually turns out to be not-so-dead, and is actually faking his death so his estate will make money. James and Gino reluctantly go ahead with the scheme.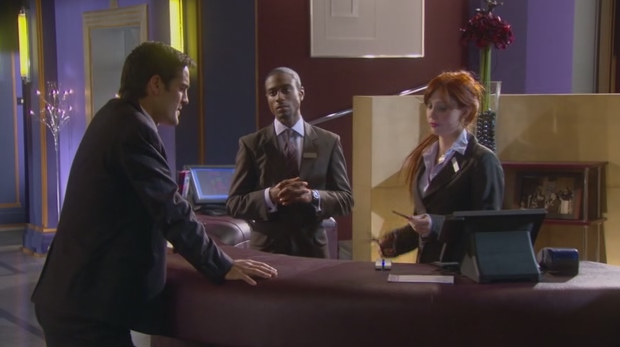 Ben's been getting crap from a douchebag guest. So when his card declines during check out, Melanie cuts it up and scares him into being nice.
And Ben's smart enough to see that she's not nearly as experienced in reception work as she says, but is still grateful for being saved from the nasty guest.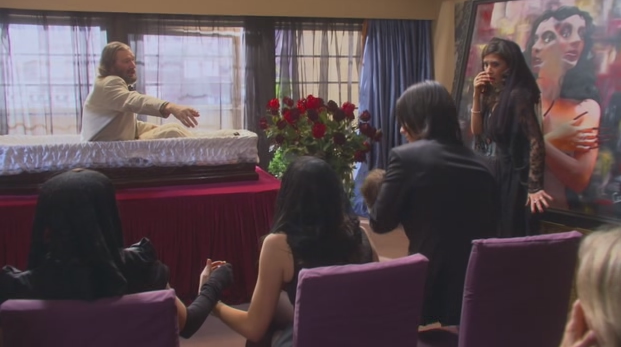 Gino foolishly tells the not-so-dead artist that his widow is carrying on with the manny before they arrive for the viewing. So the funeral descends quickly into farce.
Sam and Juliet question James and Gino about whether or not they knew about the artist not being dead. Gino's prepared to take the blame, but then James steps in and saves him. Aw!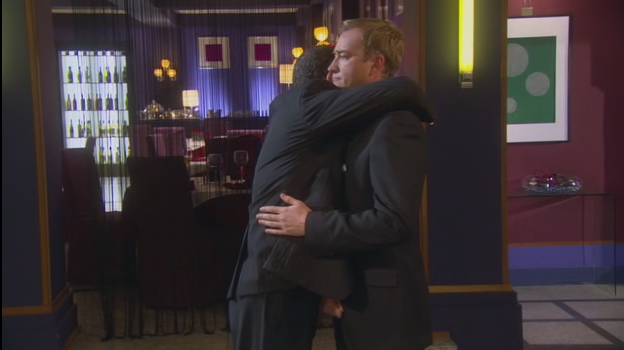 This is swiftly followed by awkward manhugs.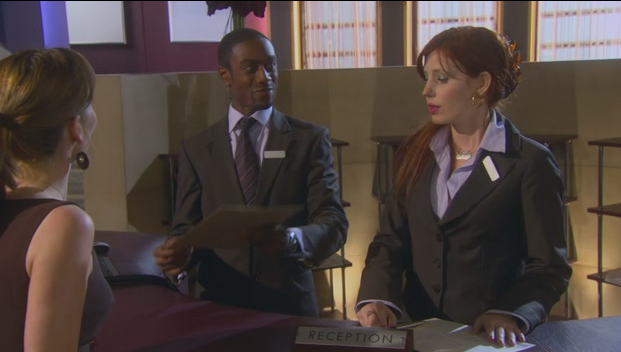 And then Juliet comes for the references that Melanie doesn't have, but Ben steps in and gives her a fake set. So we has a new receptionist! Even if Ben is kind meh about it, since he still misses Anna by the looks of it.
I happened to catch
Penelope
on cable a few days ago and ended up watching the whole thing. Mostly because REG was in it, though he didn't have that much to do besides playing the henpecked father of the title character. Also, I'm always thrown when he plays a role with an American accent......it's not a bad accent, but I think I'd rather he'd just played the as a Brit. And that was really the strange part about the film: there were a heap of British actors playing Brits (Simon Woods, Nigel Havers, a tragically understated Russell Brand), British actors playing Yanks (REG, Burn Gorman and James McAvoy.....well, he's a Scot and REG is Swazi but you get the idea) and American actors playing Americans (Reese Witherspoon, Christina Ricci, Catherine O'Hara). The city Penelope goes out into was like a weird mixture of New York and London. I don't know....it was a rather charming film with a good fairytale twist, but it felt like there was something lacking, despite the cast and the storyline.
And....that's about it, I think? *clicks update button*
Current Mood:

busy
Current Music: The Whitlams - Charlie No. 2