I rarely talk politics here, but I've been following the aftermath of the Iranian elections via the media and
ontd_political (a closet follower of this comm no more!). I feel absolutely helpless watching some of the footage of protesters being beaten or chased by the police, but I would like to make my feelings clear on this.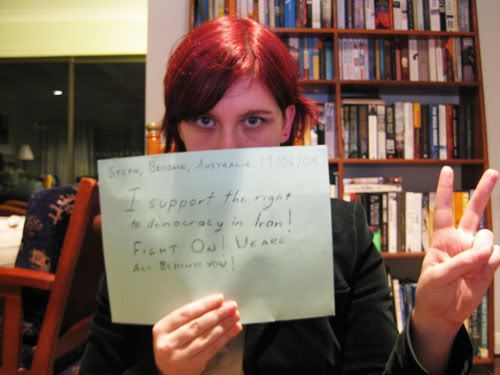 Crappy shot, I know. But you get the idea. If you want to show the Iranian people that you support them too, you can send an image of yourself (or a sign, you don't have to be in the shot) like this to Stand with Iran. There are rallys going on around the place too...I went to the Brisbane one today, but couldn't stay for the march to parliament house, sigh.

So there it is.

And now on a completely shallow note: I have the series four premiere of Hotel Babylon coming. Can't wait to watch it tomorrow!