Last night, there was a power outage in my street. While I was going around the house with the torch unplugging everything, I came upon something entirely odd. Perched on the doorknob of the study door was a mouse. I call it odd because I was wondering how on earth the thing ended up on the doorknob, seeing as I've never picked mice to be so acrobatic as to jump into the air and manage to land on a doorknob (or any higher surface, for that matter). The funny part came when I went to open the study door, and rather than pick the mouse up, I poked it and it immediately leapt off the doorknob and scurried behind the bookcase next to the door. I know, it's a pest and there are probably about more where it came from, but I expect in time either the mouse will either a) clear out, b) will fall victim to one of our traps, or c) will end up in the jaws of Trotsky, who is a fearless hunter.
So there's my amusing anecdote for the week right there. And if anyone wants to offer an explanation to me as to how a mouse can get stuck sitting on a doorknob, I'd love to hear it.
Last week, Dad bought a new phone system to use at work. He also decided to switch from Telstra to Optus, but as part of the deal he got two mobile contracts. So he switched his phone to Optus....and then informed me that I was switching too. I was a bit annoyed by this, as Dad didn't bother to consult me before he went ahead and did it, but then I'm the only other person who uses a mobile in the family so it had to be my phone. I was quite happy with Telstra, despite the fact that there is nada reception where I live. That I had to pay money to unlock my phone so it would accept the Optus SIM was annoying too (I bought a Telstra phone because I knew I wouldn't want to go through all the hassle of changing providers *grumble*). The good news out of this is that my mobile now works at home, and Optus are paying my latest bill and buying out my contract. So at least I haven't paid too much for this.
All phone angst aside, I got the revised draft of chapter two to Rick on Monday. I've been using this week to work on chapter one. After Rick leaves, I'll use the month he's away to draft the next three or so chapters so he can look at those when he returns. I'm think I'm making good progress at this point, but I can't wait to have the whole thesis drafted. I've found with these longer papers that the first draft is always the toughest to write, and that it's a huge relief to get past that first, huge obstacle.
Went to Anjuli's baby's Christening on Sunday with Libby. My Goddaughter Emma is about six months old and very sweet. She took a particular liking to my sunglasses and was quiet for most of the service until she was anointed with Chrism oil, after which she started wailing and didn't stop until her great-grandmother let her chew on her eyeglasses case (she was tired and is teething, apparently). Oh, well. Speaking as the aunt of eight nieces and nephews, she's much quieter than most of them were as babies.
And now, for the fandom section of this update. Took me long enough, but finally did a recap for the season finale of HB.
Crappiest finale thus far. The thing about the last two finales was that there was a serious plotline that took centre stage (Charlie looking after the guy giving evidence at the criminal trial, Donovan Credo attempting to take control of the hotel with everyone's jobs on the line) and they were carried off with good pacing and direction and not played for big laughs. The hostage situation would've worked if it hadn't ended in a farce with everyone covered in ash. And it didn't feel like it'd been resolved either. It didn't feel like the father had gotten closure on his son's death in the end. Maybe they should've put a scene in where he sat down and talked with Jack and we got an idea of his frame of mind, but no. I feel annoyed that they just decided to knock Jack out and give him concussion and not make him more useful. We know that Emily's good at getting out of sticky situations, we've seen her do it several times now! How about putting Jack to the test here?
Besides that dud plotline, there were things I liked about the episode. Anna singing Que Sera Sera in the air vents with everyone singing along was sweet. And the guest reading Catch-22 was also amusing, especially when Gino had no clue why he was laughing so much. The Anna/Ned plotline was wrapped up pretty neatly too. Pity they had to assassinate Ned's character in the process, but I guess it's better that most of the main characters stay single so there's more plotline opportunities (aside from Tony of course, who can be married because he's a bit older than everyone else).
As a whole, series three wasn't bad. Alexandra Moen's proved a great new addition, and hopefully Lee Williams can adequately fill Max Beesley's shoes for series four. The writers need to work on his character much more though, because at the moment the Jack's not at the stage where the viewers are meant to be onside with him in the way they are with the rest of the cast. I do think that things got a bit too silly this season with the plotlines, and I hope they can keep it a bit more real for series four too. And I hope they can come up with strong new characters in S4 too, seeing as Jack needs a deputy manager to work with and there should be a new head of housekeeping. These characters should be able to keep things interesting, and I look forward to hearing about what they'll be doing in the next nine months.
Nine or ten months until series four. Damn, that's a long wait. Still, I can enjoy the dvds and that should help pass the time. As well as that thesis thing as well. ;p
Tony gives the opening narrative again, on the subject of the rich and salvation and faith and other important themes. What's important is that there's this Faith Healer (who also seems to be one of those mega rich evangelicals who preaches a prosperity gospel) coming to the hotel for an interview and he's already fast convincing Emily of his amazing magical super powers.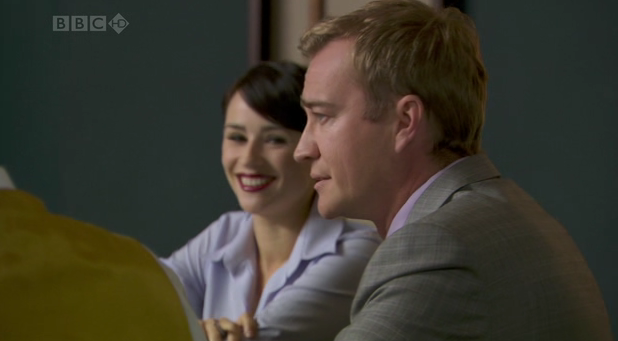 Nothing of great note happens in the staff meeting. Gino complains about a patron who doesn't buy a drink and brings his dog in, Emily gushes about the Faith Healer. Here Anna and James are having a joke at Gino's expense. I like the way they positioned the shot, possibly because Anna/James is my secret 'ship that's equally as implausible as Tony/Jackie.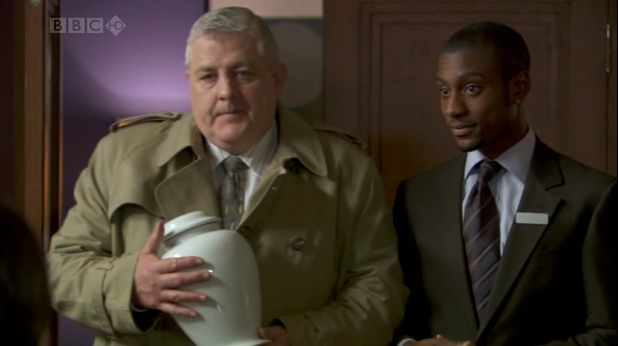 The noteworthy part happens at the end of the meeting, when Ben brings a guest in who wants his son's ashes looked after.
Tony encounters a guest lingering outside the entrance- hey, it's Moneypenny! Moneypenny circa Pierce Brosnan Bond. Tony escorts her in, so she doesn't end up upsetting the cabbies.
An older guest decides to go to the bar to read Catch-22, the book he's wanted to read his whole life and now has an entire day in which to do so.
Jack goes to put the ashes in the hotel safe, only to discover the safe's full already.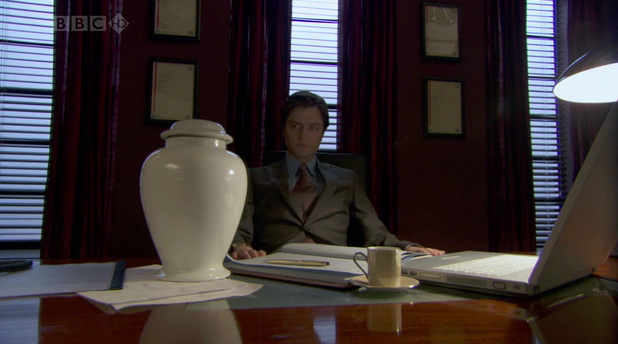 So he decides to keep it in his office with him, only to be rather bothered by sharing the same space as a dead person.
Moneypenny goes to have a drink in the bar, and indulges in code speak with Faith Healer's PA Nathan.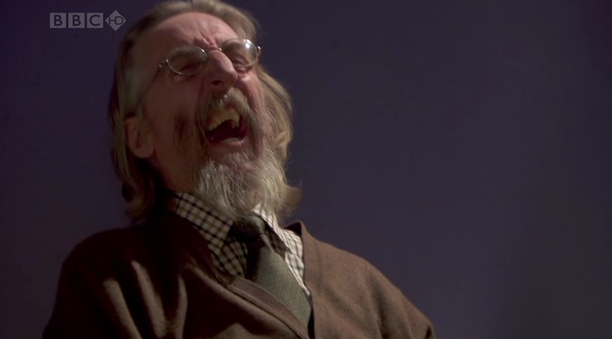 Elderly Guest is clearly enjoying his book. I personally never LOLed that much when I read Catch-22, for me it was more the sort of book that brought a smile to the face, but there you go.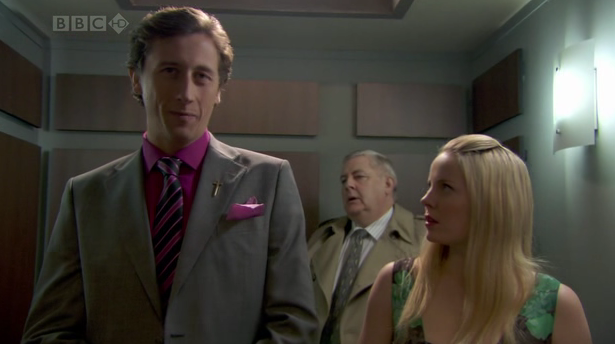 As if on cue, Moneypenny confronts Faith Healer about her dead mother giving all her money to him. He escapes into the lift with Emily, and explains that some of his followers leave money to him in their wills.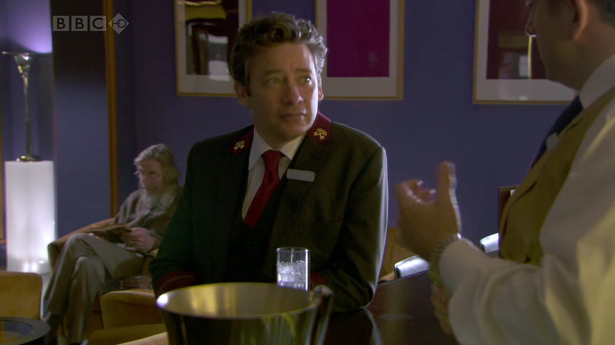 Gino's annoyed at the Catch-22 guest's laughter and thinks it's turning people away from the bar. His complete lack of knowledge about Catch-22 leaves Tony beyond explaining it or making a smart remark.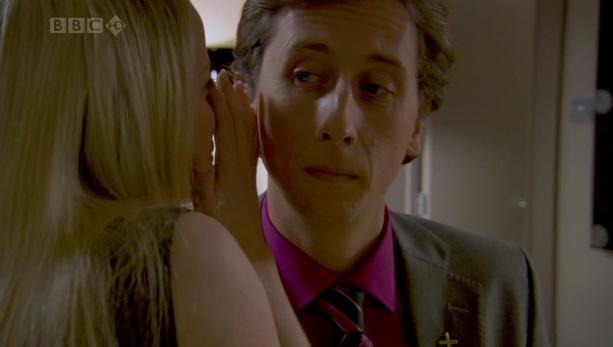 Up in his room, Emily's giving a naughty Catholic schoolgirl-style confession to Faith Healer. And here I was thinking that Emily should be capable of seeing through this guy's charisma in her line of business. As opposed to falling for his act completely.
Nathan has brought Moneypenny up for a civil chat re: her mother's donation to Faith Healer.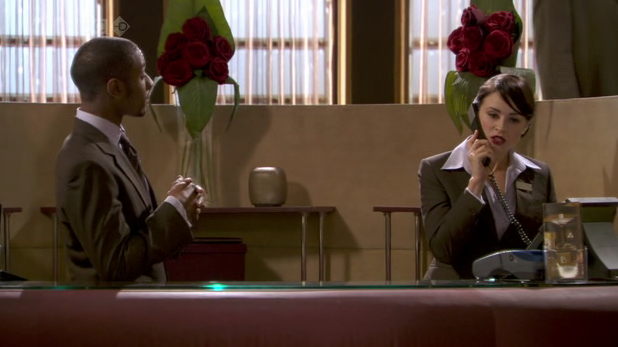 Down at reception, Anna deals with a picky guest who doesn't like his room and has a strange accent. Annoyed at his continued complaints, she decides to go up and give him a piece of her mind.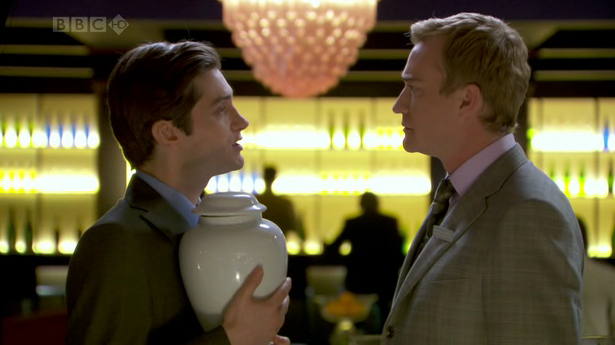 Jack can't deal with sharing a room with a dead person, so he palms the ashes off on an unwilling James by reminding him about his forthcoming pay review.
The guest who the ashes belong to is lingering about in the Honesty Bar with a gun. Oooh, something sinister's afoot!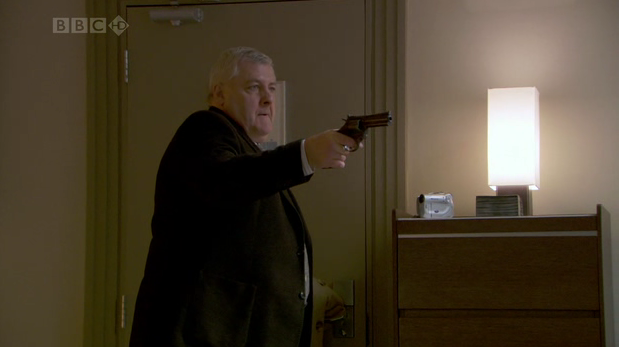 And now we see who he wants to use it against. Oh, dear.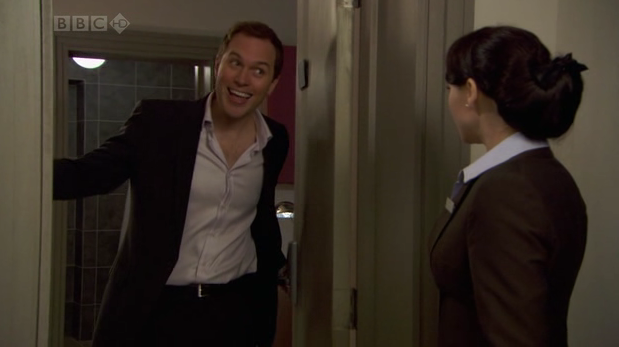 Anna goes to investigate the annoying guest, and....it's Ned, who wanted to lure her up there. Now that expression on his face is something I can LOL at.
The hostage-taking guest (Martin, as he's billed in the credits) explains to his hostages that his son fell in with Faith Healer's group and stopped taking his leukemia medication because he thought that Faith Healer's magical powers would work. And they didn't, obviously, so he's now here to settle old scores with Faith Healer.
Speaking of Martin's son, James is trying to find a safe place for him. It would seem however that a busy corridor is not the place, as he soon finds out.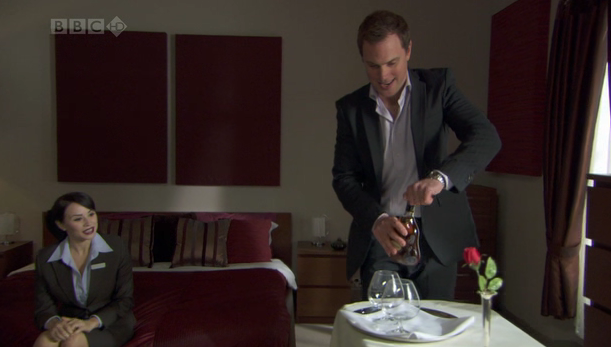 Ned has brought Anna up because he has a very important question to ask her....which he's dancing around rather than just getting on with it.
Moneypenny tries to get out of the hostage situation by announcing that she's an actress paid by Nathan to make Faith Healer see that he's gotten too ambitious.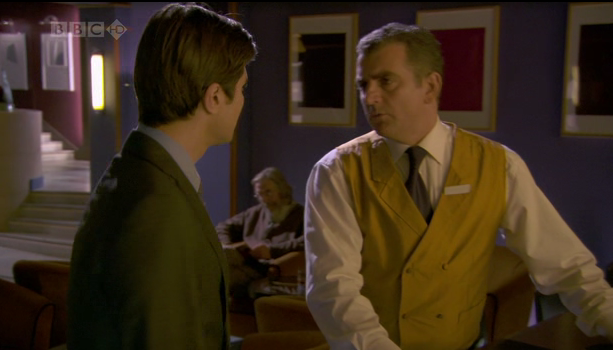 Jack goes to ask Gino about Emily's whereabouts (remember she's incommunicado what with the hostage situation and all), but Gino takes the moment to complain further about Catch-22 guest. Unlike Tony, Jack goes to the trouble of trying to explain to Gino what a 'catch-22' is, though Gino still isn't quite comprehending it.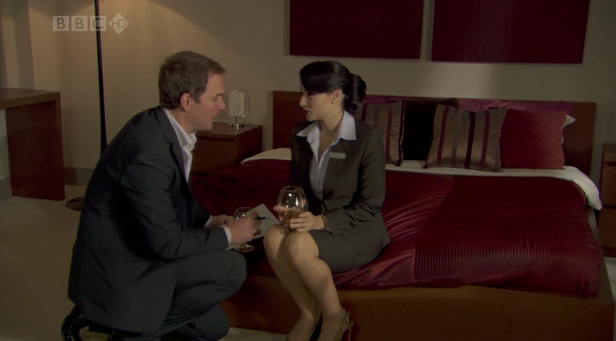 Meanwhile, Ned is still dithering about the proposal. He does tell Anna that he's been offered a cushy hospital job in York though, and suggests that they'd live there. City Girl Anna is a little put off by this.
So Moneypenny's trying to leave, but Martin's having none of it. He proves he is Serious Business by firing the gun into the ceiling.
Anna and Ned hear the shot...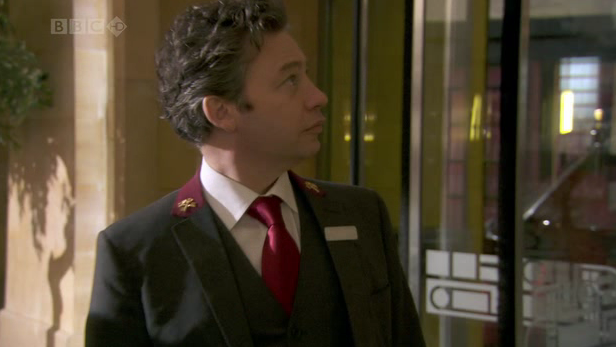 ....and so does Tony.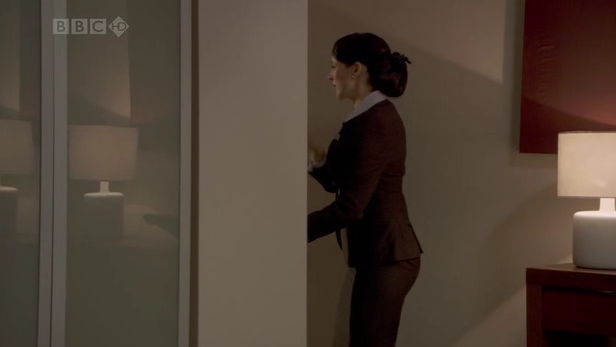 Anna's sufficiently suspiscious about the noise to go and investigate. But not before telling Ned that she'll think about her answer to his marriage proposal.
After sneaking around, she comes across Tanya, who agrees that the noise was a gunshot.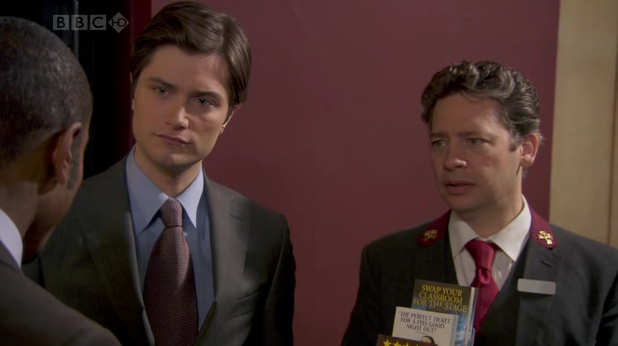 Jack's just wondering about Emily's whereabouts again with Tony when Ben (whose bladder is bursting) runs up and informs them that Anna's been missing for a bit as well. He tells them that Emily was with Faith Healer before running off to relieve himself.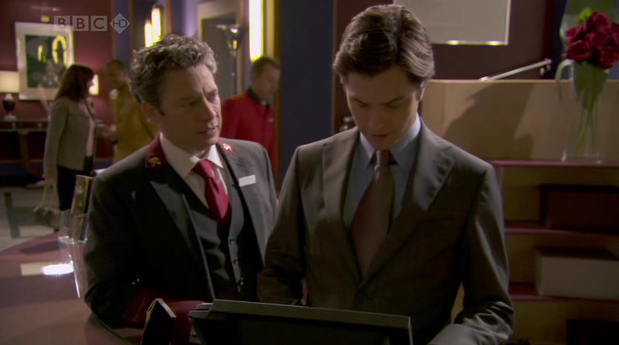 Tony tells Jack about the gunshot noise, but Jack still decides he's got to investigate his missing staff members himself.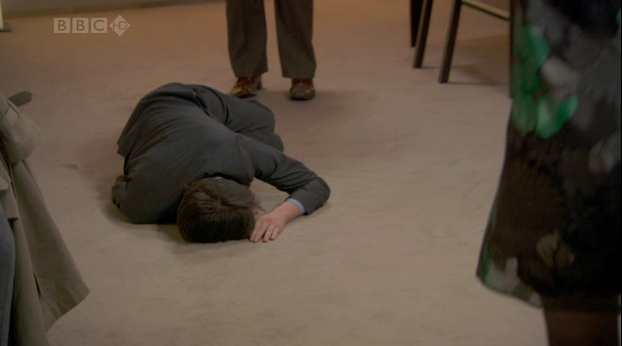 In an attempt to get Martin's gun, Jack ends up out cold on the carpet.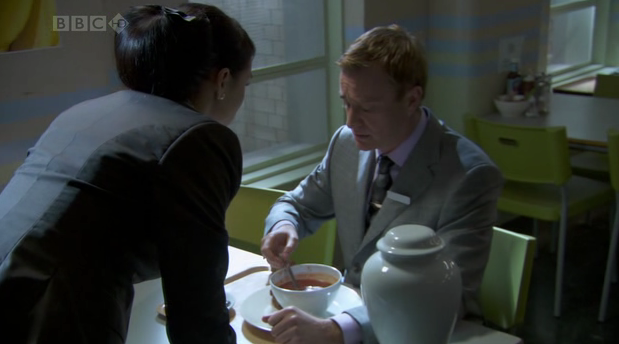 Anna cannot find Jack, so she goes and bothers James about the gunshot. James however, is more preoccupied with the urn of ashes than any nonsense about a gun.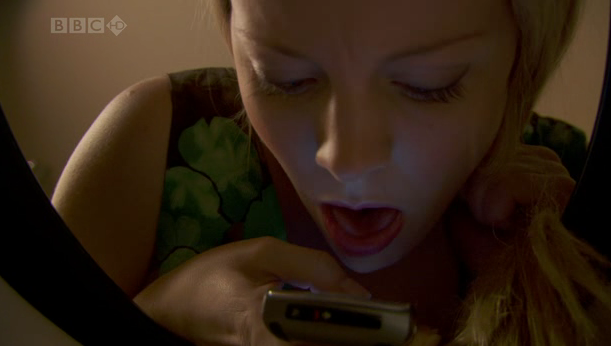 While pretending to be sick in the bathroom, Emily scrambles to send a text message to Tony about her situation. She manages it just before she has to flush the phone down to toilet to keep up the ruse in front of the gunman.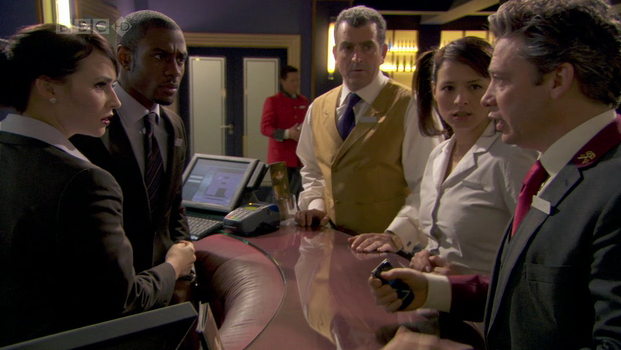 Tony gets Emily's text and after being distracted by news of Anna's proposal and trying to read the message, they finally figure out Jack and Emily are in trouble.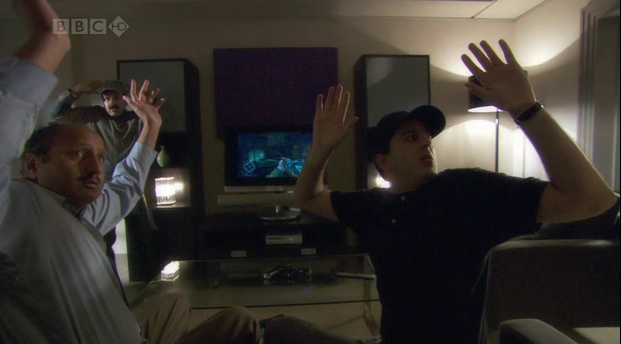 At this point, Tony interrupts the story to explain to us that emergencies in hotels are not necessarily emergencies, such as this instance when a SWAT team arrest a group of men playing a shooter video game. The point is that this sort of mistake costs the hotel money and they'd like to avoid it, if possible....
...which is why Tony and the gang are formulating a Cunning Plan to end the hostage situation themselves.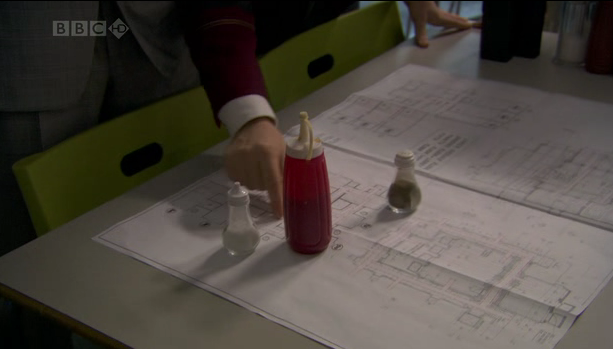 So Anna's going to be crawling in the ventilation shafts so she can look into Faith Healer's room and see what's going on and in the event of danger, Tony, Ben and James are going to run a trolley into the room to knock over the gunman. And Gino's going to be holding the fort while they're all doing this.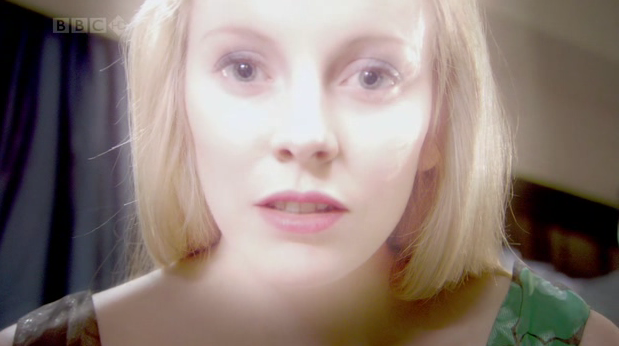 Moneypenny succeeds in waking Jack up with a whiff of Bombay Sapphire. Only, he's concussed and thus completely useless in trying to alleviate the situation. That he sees Emily as an angel is surely a sign of being out of it. But could also be proof of the future romantic storyline I just know they'll do in the next series.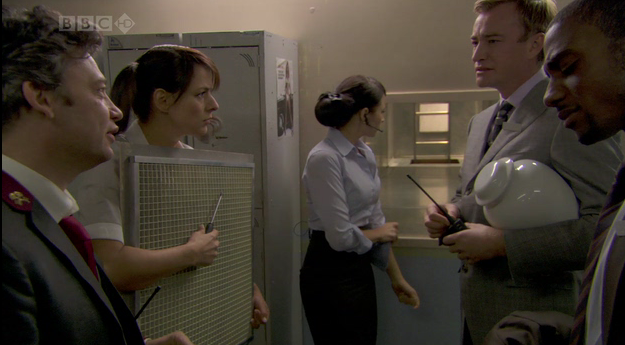 Anna goes to save the day. There's something amusing about Tony admitting that he loves 'Saving Private Ryan', possibly because Dexter Fletcher's done the war drama thing himself in Band of Brothers.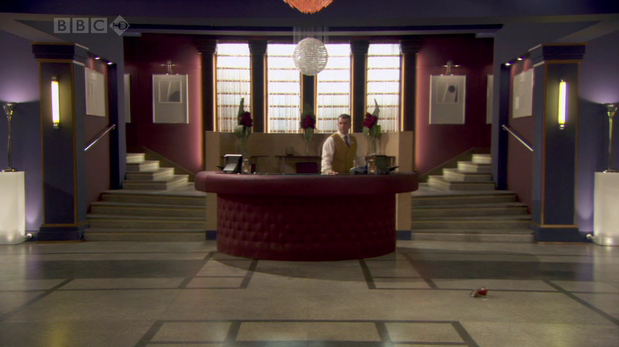 While climbing towards the floor where Faith Healer's room is, one of Anna's shoes falls off. And surprises Gino in the lobby.
In his capacity as acting manager, Gino orders Catch-22 guest to leave the bar. So he decides to retire to his room to continue reading.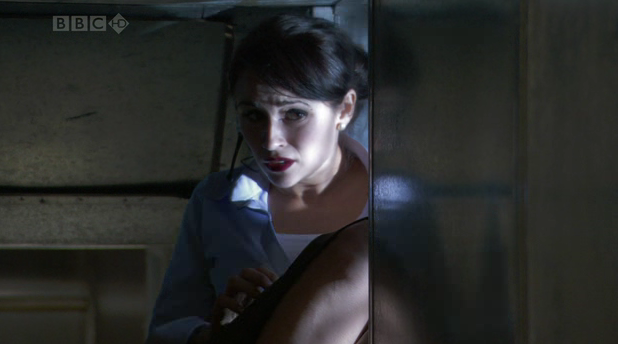 Feeling a bit lost and nervous, Anna starts singing 'Que Sera Sera'.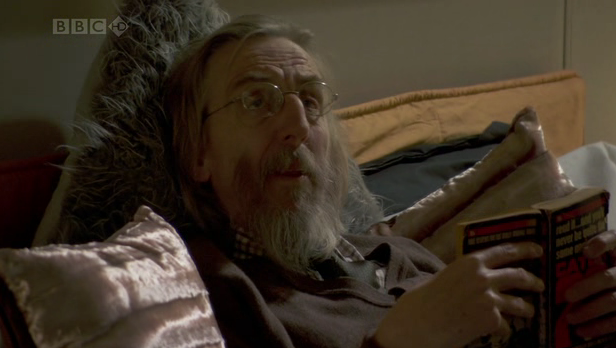 Catch-22 guest hears the singing...
...as do the hostages...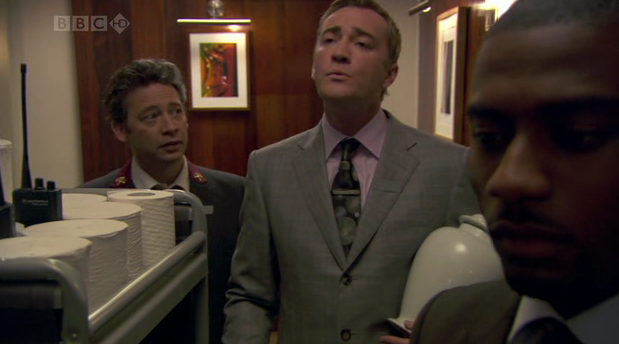 ...and Tony, Ben and James (who feels compelled to whistle along)...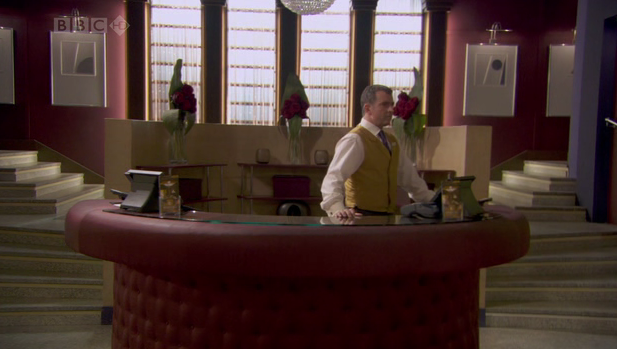 ... and Gino, who never resists the chance to sing.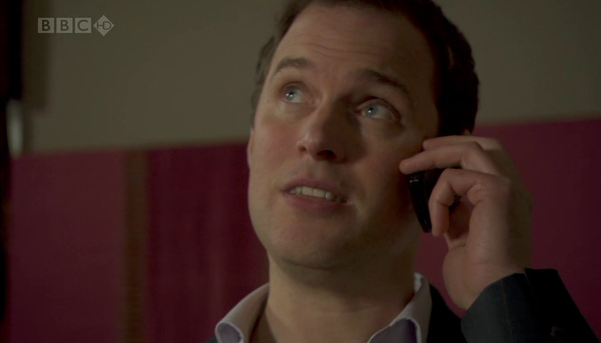 And then Anna overhears Ned through the shafts, talking on his phone. Somewhere between that almost-proposal and now, Ned's become an arrogant prick who thinks Anna will settle for a rich life in the country with a few babies.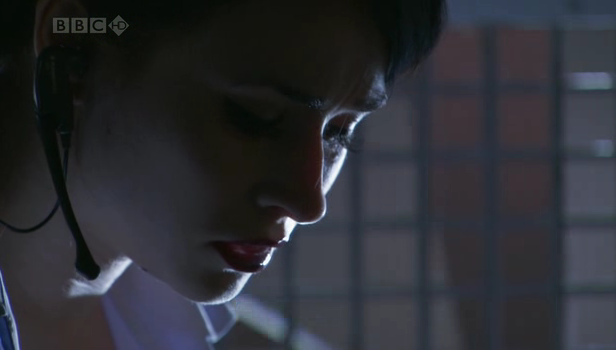 Anna's obviously not happy about this...
...but like a real trooper, she rips her shirt off and decides to continue on her quest to save the day.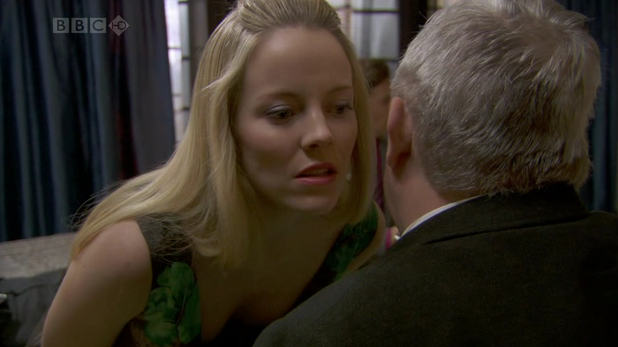 After a prolonged period of Martin dozing off and waking up just before someone can grab the gun out of his hands, Emily decides that it's time to resume negotiations for a peaceful end to the situation.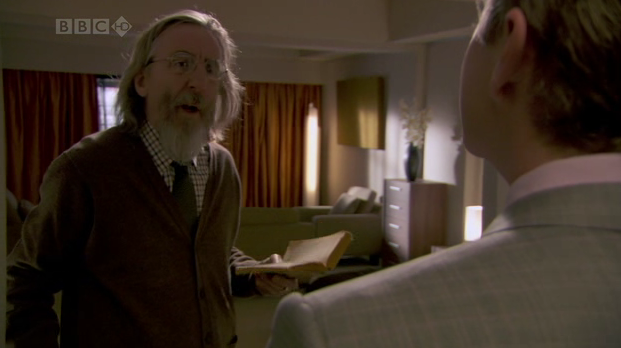 As part of the plan, James goes to see if he can get into Faith Healer's room via the room next to it. Which happens to be where Catch-22 guest is staying. He's a bit dubious about it, but then James just barges in, so it's all moot really.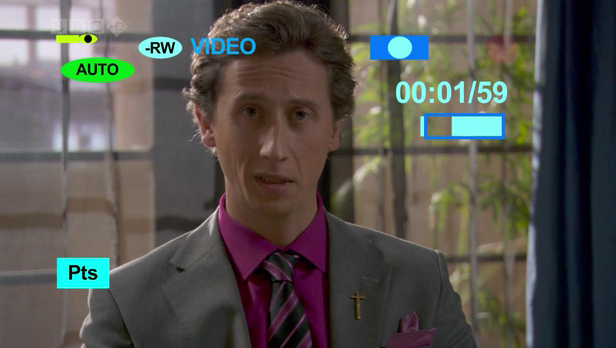 In order to prevent him from fooling anymore people into doing stupid things like not taking their cancer medication, Emily videotapes a confession by Faith Healer that his healing ministry is basically a dodgy enterprise he's made up for the money.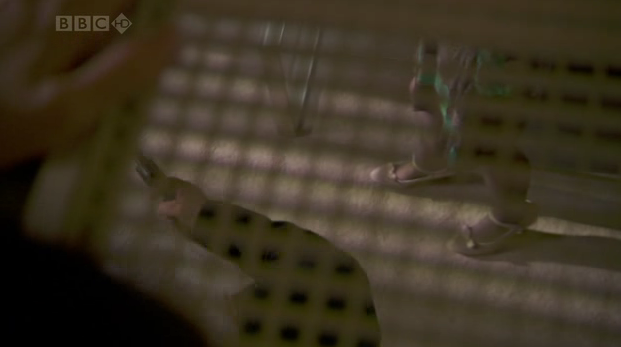 From her vantage point, Anna reports that there is a gun in the room. zomg action stations!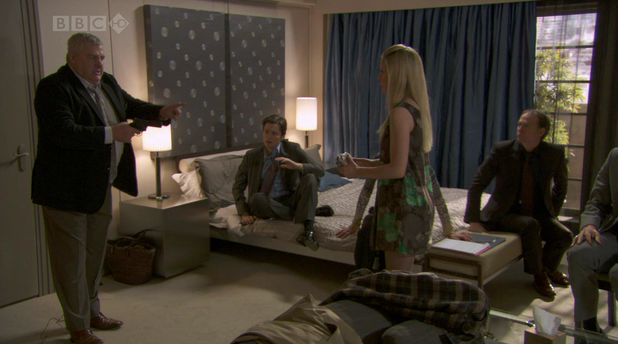 However, Martin still wants to shoot Faith Healer for revenge, so it was a bit pointless.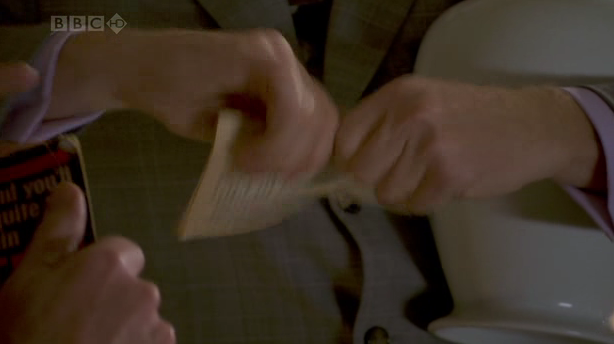 And this is when things start to get really stupid. It starts when Catch-22 guest is finally too annoyed by James in his room to continue letting him stay there. James rips out and tears apart the last few pages of the book in retaliation, the worst nightmare of all readers.
After Martin catches sight of Anna above him, Tony decides to take action.
So to start with, Ben chickens out of opening the door so the force of the cart ends up sending the door crashing.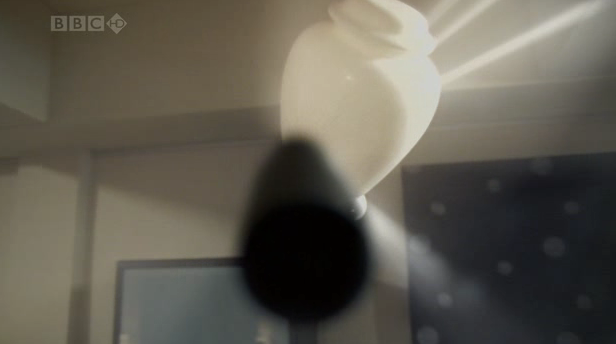 This knocks Martin over, but also causes him to accidentally set off the gun. And in some sign of divine...er, whatever, the bullet fired ends up hitting the urn, which James has helpfully tossed in the air.
Which ends with everyone getting covered in ash, and James making the ironic announcement that Martin has shot his own son.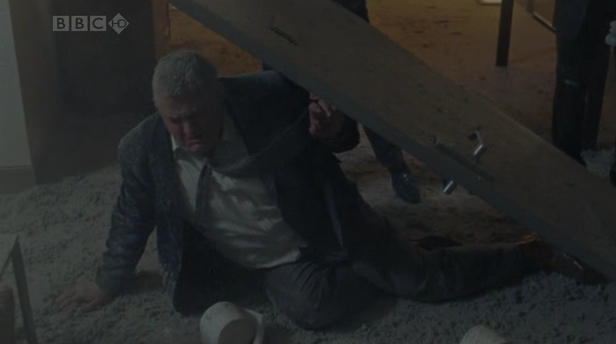 It's Emily who reveals that the gun only had two bullets in it- one for Faith Healer and the other for himself. And yet this serious twist still ends up looking ridiculous when you consider the scene.
So we reach the conclusion of the episode. Emily reminds Faith Healer that she's got a powerful weapon against him....
...Nathan pays Moneypenny for her services...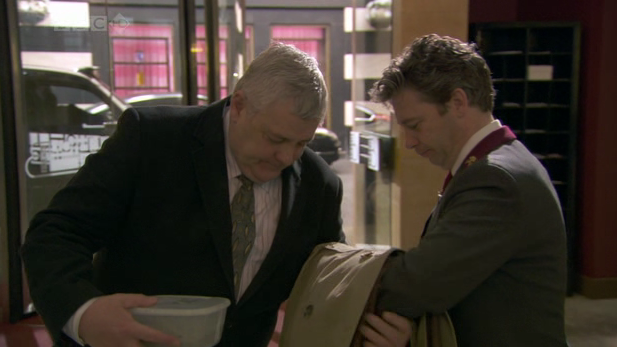 ...Martin makes a rather downtrodden exit (still feel that this was left unresolved)...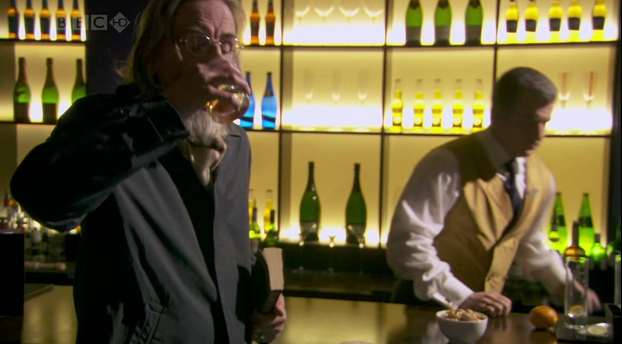 ...Catch-22 guest finally has a drink, and then proceeds to trash his book and stuff his mouth with nuts before leaving....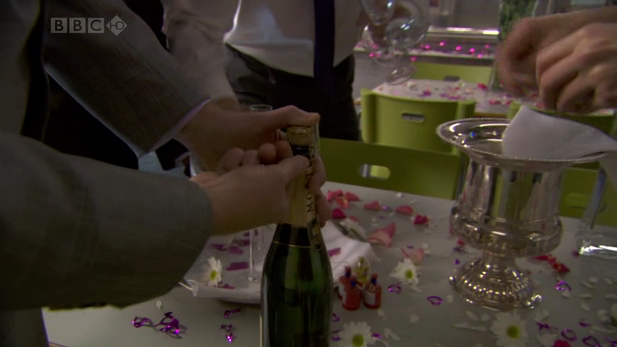 ...and everyone prepares to celebrate Anna's impending engagement...
...only, it doesn't look like it's going to happen now...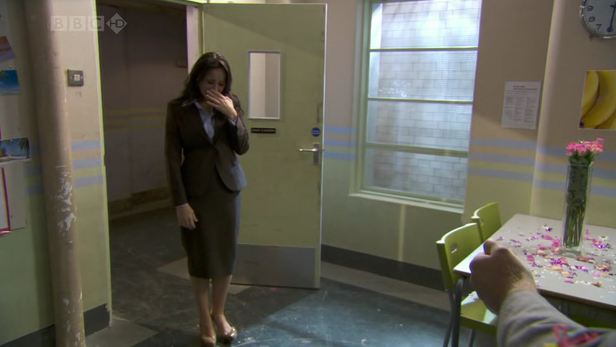 ....and it doesn't. God, the writers have put Anna through the wringer this series between Charlie's fuckwittery and Ned's looks-perfect-but-isn't-really act.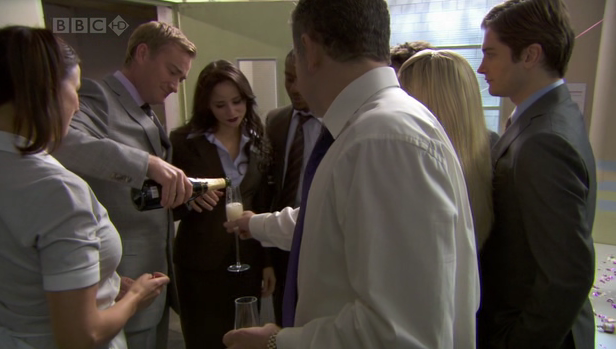 So commiserations with champagne are the order of the day now.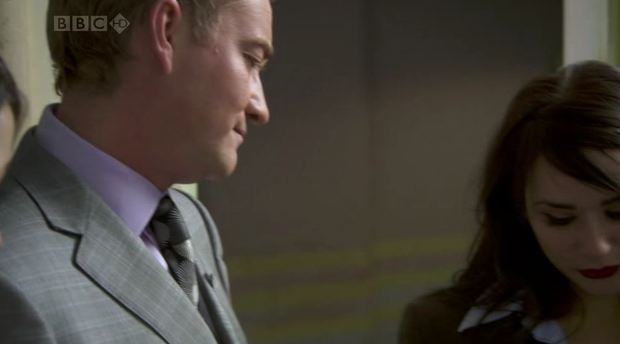 Anna/James: So Not Happening, But Would Be Amazing If It Did. There'd be loads of snark and bitching at each other and they would never admit they liked each other but would inevitably hook up because that's what happens with couples like that in shows like this.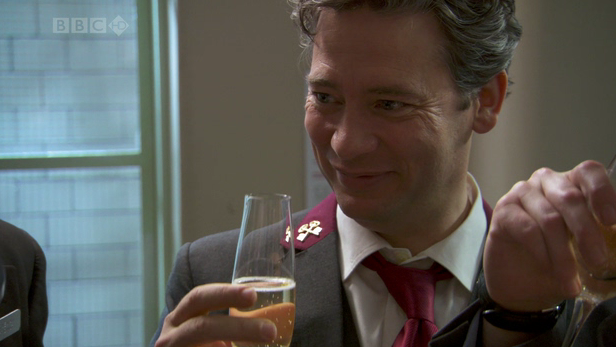 Began the recaps for this series with Tony, it only seemed fit that I ended with one of him too. I'm pretty sure that with first billing and all, Tony is sort of the main lead character now.
I've also seen the first three eps of The Tudors now. The pacing in this series seems quicker than the last, which is good in a way. However, it has the same problem that Rome did: one series is supposed to depict maybe ten, fifteen years, but you'd never guess it because the characters don't really seem to age (unless they've gone from young children to young adults) and instead it looks like events are happening in quick succession over a year or similar. It makes things confusing, to not really mark the passage of time like that. I'm wondering if in the event we do get to the end of his reign, whether Henry's going to look like a middle-aged man or still like an athletic thirty year-old. :/
Current Mood:

chipper
Current Music: Lior w. Sia - I'll Forget You