After yesterday, I feel ready to address what happened further.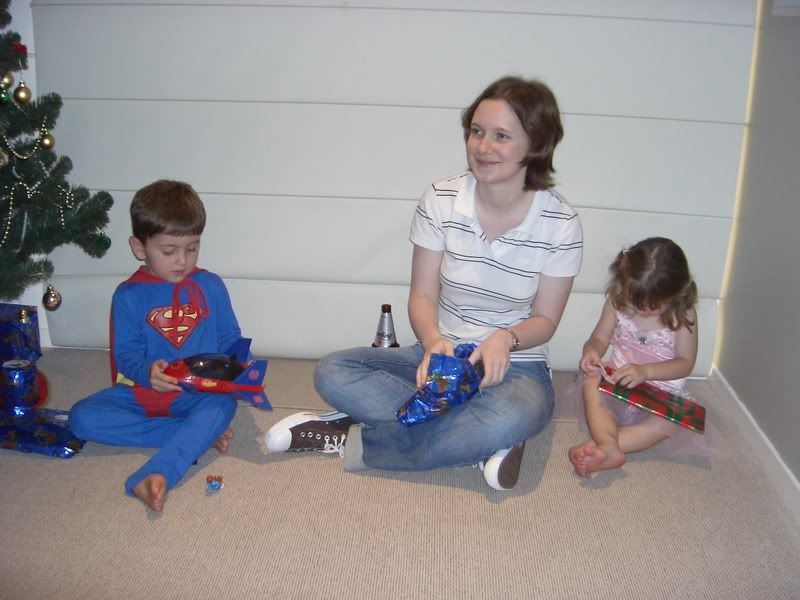 This is Maryke. The photo was taken two years ago at Christmas, and the children are my niece Ella and my nephew William, my brother Ben's kids. She hated small children, but loved her nieces and nephews and got along with them so well. She would've turned twenty on the 18th of July.

Maryke liked watching the Ellen DeGeneres Show, The Daily Show and At Home with the Braithwaites. She loved the music of Elliott Smith and Lou Reed, read John Irving obsessively and counted Wes Anderson, Quentin Tarantino and Clint Eastwood among her favourite filmmakers.

I don't recall how much I've talked about her on this journal at the moment. I'm quite certain that when I did, it was always in some sort of annoyed rant. She used to comment here anonymously if there was a post she didn't like or disagree with. She had a deadjournal for a while too, but I discovered yesterday that it had been deleted. Maybe she knew that I might go to read it, even though I don't think she'd updated it for quite some time.

What might be gleaned from what I wrote about Maryke is that she was a rather complex person. She wasn't particularly emotional or sentimental about a lot of things. She hated hugging friends and relatives and avoided being in family photos. I believe she was far closer to her friends than she was to me, or any of our family for that matter. This isn't to say that she didn't love us of course, but that her friends were equally family to her, and that she was very close to them.

Maryke and I were close when we were little, but when we were sent to Stuartholme when she was 12 and I was 15, we sort of drifted apart. She never liked life in the boarding house, whereas I came to embrace it. I think I probably embarrassed her quite a bit, because I was very homesick and very emotional in that first year. I talked quite openly about my feelings (and I still do), but Maryke just wasn't that kind of person, quite the opposite, in fact.

One of the important events that happened to me while at Stuartholme was that I became Catholic. I've spoken before about my conversion, and the need I felt to belong to the community. Conversely, Maryke didn't like having to go to mass every week and take religion classes. As an atheist, Maryke never quite understood faith, and religion became a very sore point between the two of us. We argued about the church constantly. She never understood how I could be progressive in my beliefs and yet belong to a church that has proven to be very intolerant towards certain groups in society. I believe she thought that I should have embraced everything about the church when I committed to being a member of it, that there was no room for my own opinions. But it's probably far more complicated than that. I guess I'll never know now.

Maryke never seemed to find her calling in life. I used to say that if I was Sherlock Holmes, then she was Mycroft. She was so intelligent and wise. She got top marks on her assignments with very little effort, and got an OP of 1 (think the best result you can get in a SAT or your A Levels). But she tried two courses at uni (creative industries first, and then maths) and dropped out both times. She just couldn't find the effort in her to do the work. For about six months, she worked as a secretary in a law firm (a job that she hated) and finally from about the middle of last year, she worked at an ice cream parlour in the food court in Queen St Mall. She herself admitted that she was lazy by nature. I believe that more than anything else, she wanted to be a filmmaker. But after dropping out of creative industries, I don't know whether she just decided to put that vocation aside. She just wanted to make films, not learn the theory behind it, I suppose.

When I got back from church yesterday, I got to read the letter that she had left in her bag. It's a very Maryke letter. Understated, not at all sentimental or emotional. She writes along the lines that she couldn't find it in her to be happy anymore, that she no longer wanted to 'be', as it were. That she thought that choosing between life and death was the individual's choice, and that she had chosen to end her life. She apologizes at the end of the letter "I love you, I'm sorry I've hurt you." I daresay that she had been turning this over in her mind for quite some time now.

The best way for me to look at this sad loss is that there wasn't much any of us could do. Mum knew Maryke was unhappy. Dad thought she might have been suffering from depression. Like I said before though, Maryke just wasn't the type of person to talk about her feelings. I doubt she would've talked to a counsellor or therapist. That just wasn't in her nature. None of us could ever have guessed that she was this unhappy though. She never gave off that impression. What I gather though, is that this kind of suicide is always a shock to those around the person. They could never imagine this occurring.

I said before that Maryke and I weren't close. Anyone who went to school with us can recognize that we were very, very different people. Some of our teachers were surprised that we were even related! But I regret that I never told my sister that I loved her. I didn't because I knew she'd hate it. But I still wish that I had verbalized it. On Friday, when I was going into the city for work on the bus, I saw her walking up Caxton street. That was the last time I saw her alive. I didn't even say goodbye to her when she was last here, on Thursday evening. I thought I'd see her again, no problem. But I didn't.

At this point, I think I've gotten through the worst of my grief. I went to church yesterday and talked to a few priests that I'm good friends with. Writing about it has been very therepeutic for me, and the condolances that I've had from you have been of great comfort to me. My parents and Maryke's closest friends however, suffer much worse than I do. As I said before, the solace that we all take from this is that there wasn't much we could do for her. We couldn't anticipate that it would come to this. There's a strong sense of helplessness felt by everyone, but Maryke made the point in her letter that we were not to blame ourselves for this. And I have to respect that, difficult as it is. This was out of our hands.



I have two Stuartholme old girls on my friends list (Jessamy and Shivvy), and there may be others who read this journal that I'm not aware of. From what I can gather presently, word has been getting around about what's happened. I'm a little uncertain on how I feel about that, but it's probably for the best. Certainly, if all the girls who are attending the reunion next week find out beforehand, then perhaps I won't have to answer so many questions about it. I still plan to attend the reunion too, because so many of the girls in my grade were an unfailing support to me when I was there, and I was going through rough times.

I myself plan on paying a visit to Stuartholme tomorrow afternoon. In particular, I want to speak with Maryke's Japanese teacher Mr Webb, and with the chaplain, Mr Reed. And there are other teachers that I would like to talk to as well, any that taught Maryke for that matter. Because while she might not have always enjoyed being there, she had a lot of respect and affection for the teachers, and vice versa.

At this point, I'm not making any changes to my schedule this week. Maryke wouldn't want me sitting around grieving for her (in fact, she'd probably be pretty disgusted with me if I did that). I still want to put together my presentation and critiques for Thursday. I may tell Rick and Roxanne, and I have no doubt they'll fully understand that if I can't give the presentation. Giving the presentation may hinge on when we choose to hold Maryke's funeral. Dad's considering Wednesday or Thursday at the moment, so we shall see.